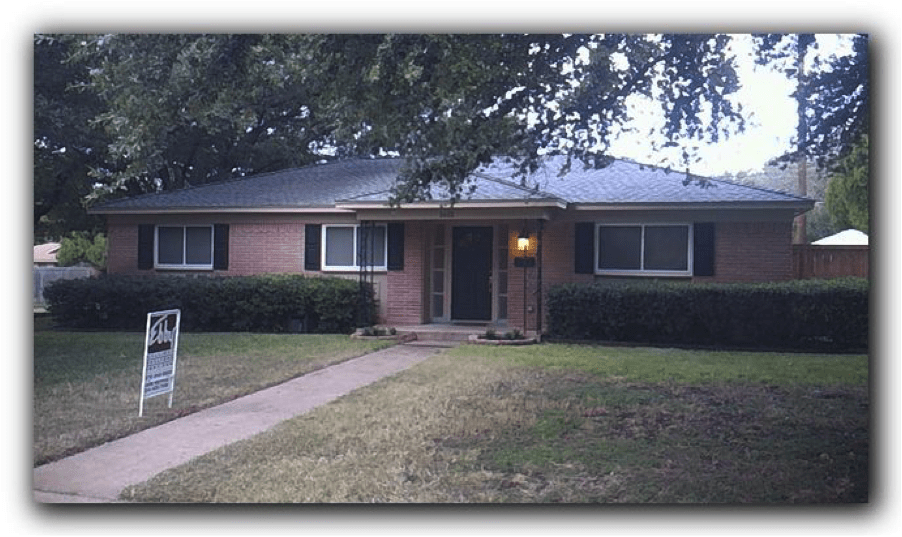 Here's one of the Richardson home inspections we performed recently. With all the new construction going on in North Texas, many homebuyers are persuaded by the appeal of the bright shiny new house. This is certainly a great way to ensure that you get modern materials and systems; and (hypothetically) everything works perfectly on Day One. But new residences aren't always perfect — that's why we recommend new home inspections prior to acceptance. And there are usually a lot of small things the new owners need to add to the completed structure to make it livable; and these can run into quite a bit of money.
With an older home, you at least know that things worked well enough for the previous occupants to live there. And — unlike a brand new house — if there is a problem with the structure or systems, this will have created observable symptoms that will be picked up during professional home inspections. Richardson TX has many vintage dwellings like this one; and a fairly high percentage of these were well-built and well-maintained. Most of these older places have had their original HVAC systems, plumbing fixtures and electrical installations replaced or upgraded to meet current building codes. Your inspector will readily identify any deficiencies or potential issues; and you can use this information to decide whether to buy and/or how much to offer.
Inspection Notes – Richardson Ranch Style Home – Structure and Systems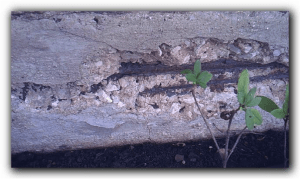 The first thing we noticed when inspecting this property was the drainage situation. The homesite is in a rather flat section of town; so there's not help from the terrain in carrying away rain water. There are two swales running through the yard; but there isn't much slope between the house and the swale. And the soil level comes right up to the top of the slab (vs. the recommended 4″ of visible foundation).
Drainage issues are best dealt with at initial construction and are more difficult to remedy after-the-fact. In this case we recommended that the swales be deepened and the soil level next to the foundation be lowered. This will have the additional advantage of reducing the likelihood of pest infestations from termites or other wood destroying insects.
Home Foundation Inspection Issues
The slab foundation also showed signs of age. In several places the concrete had crumbled and the rebar was exposed. We judged that the slab was still structurally sound; but to prevent future issues, we recommended that it be patched to repair the crumbling and completely cover the rebars. Another drainage-related issue we noted was the lack of slope in the roof gutters. This is a surprisingly common (original construction) installation error, not unique to Richardson homes we've inspected. Insufficient gutter slope can lead to clogging and potential water infiltration into the home.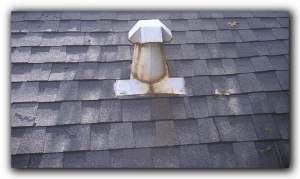 Those were the main items we wanted to call to the attention of the buyer. The HVAC system, water heater and plumbing fixtures were dated, but in serviceable condition. We noted that the attic floor insulation varied between 0-3″, well below the 10+" recommended for Richardson homes. There were some nail pops in the roofing which could be easily repaired, and we found that some of the flashing had rusted — prompt replacement recommended.
But, all things considered, the building structure was sound and the major systems were operational. The buyer elected to purchase the home, and three months later is happy with his decision.
Many Richardson TX Home Inspections
As one of the leading North Texas real estate inspection companies, AIS has done dozens of Richardson home inspections. These range from new construction "McMansions" to 10 year old duplexes to 50 year old ranch style houses like this one. It may be counterintuitive; but new homes or expensive mansions are no less likely to have major deficiencies than an old bungalow.
If you're looking to buy a house or investment property in the Richardson TX – home inspections by TREC-certified inspectors are a great investment. We can discover major issues and potential problems, enabling you to avoid expensive repairs. Call us today to discuss the property you're buying (or selling) and schedule an inspection. We have a very active real estate market now; and buyers who get this done promptly have a competitive advantage.
Advanced Inspection Service (AIS) – Dallas TX (972) 342-9183