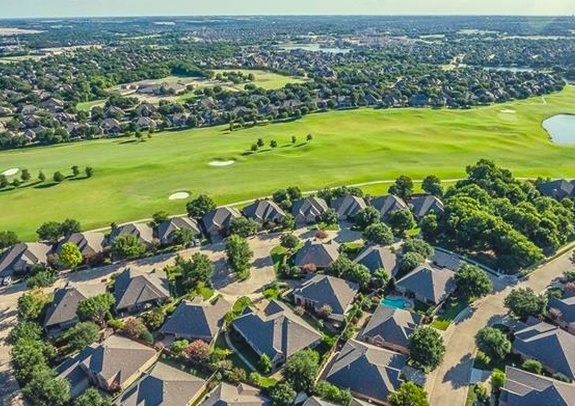 With the growth in the Northeast Dallas real estate market, Advanced Inspection Service (AIS) is performing an increasing number of Frisco, Plano and McKinney home inspections. According to the Collin County Association of Realtors, sales and prices of residential real estate in the Dallas-Plano corridor have been rising for three years and continuing. Demand is especially strong for luxury homes in McKinney and Frisco — due to their excellent schools, job opportunities and community amenities.
This phenomenal growth has really heated up the real estate market; and it's not uncommon for a property to quickly get several offers upon being listed. For homebuyers, this makes it essential to get financing lined up before making an offer — and getting the inspection scheduled and performed expeditiously, to enable a well-informed negotiation.
More People – More McKinney Homes to Inspect
The growth of these suburbs is part of a larger population migration to the Northwest Dallas area. This has accelerated due to good employment opportunities, low housing costs and taxes. Employers like Raytheon, Torchmark and Emerson Process Management moved to the McKinney area because of the great real estate values, low taxes and availability of highly skilled workers.
This exploding housing demand has lead to an active market for existing houses – and an even stronger demand for new construction. These days it seems like every buildable tract is being turned into a planned community or high-end suburban development. And we are seeing this effect in our work. Last year nearly a third of out McKinney home inspections were of newly built houses or condos. It's always great when we can inspect a dwelling before it is completed. In many cases we can advise the new homeowner about ways to enhance the structural integrity or performance of electrical, plumbing or drainage systems.
If you're buying a home in the McKinney area, Call AIS (972) 342-9183
The McKinney Real Estate Market
Settlement of the McKinney area began in the 1840s when Collin County (named after Collin McKinney, a land surveyor) was created from a portion of Fannin County. But the population didn't increase much until the Houston and Central Texas railroad arrived in 1872. This provided transportation for the cotton harvest and textiles produced at the local mill. During the 1880s and '90s the local economy grew as flour mills, banks, newspapers and cultural attractions were constructed to accommodate the thriving business climate and growing population.
Now McKinney has more than 160,000 residents, with more arriving each week. Many of these come from out of state; and this gives Colin County a diverse multi-cultural profile and cosmopolitan quality. Although close to the cities of Dallas and Fort Worth, McKinney has retained its small town feeling and culture. The average cost for a single-family home in McKinney is currently (April 2017) $476,689.
In 2014 McKinney TX was named the "#1 Place to Live in America" by Money Magazine. The article cited the community's high employment, moderate housing costs, excellent schools, safety and low crime levels. This coverage created a lot of awareness and interest in McKinney, and many people have decided to move here in the past few years.
The highly competitive McKinney real estate market makes it imperative for homebuyers to get home inspections done promptly. This gives you the critical information you need to negotiate. Call Advanced Inspection Service today to schedule yours (972) 342-9183
Recent McKinney House Inspections by AIS
Although we occasionally inspect one of McKinney's historic 1900s vintage homes, most of our work involves traditional and contemporary style houses built in the last 20 years. These embody modern designs, materials and construction practices; so we rarely see the kind of foundation problems and structural issues common with older dwellings. Still, even with our new construction home inspections, we sometimes find that the builder – or a misguided DIY repairman – has taken a short cut or installed something improperly.
The most common sources of home inspection issues in McKinney are drainage related. Colin County is very flat, so there isn't much slope on most residential lots to help carry groundwater away. Modern roofing, flashing and downspout systems are pretty good at getting rainwater to the ground; but not all yards are sloped away from the house to carry this water away. In some cases soil has been brought in to raise the level near the house, and this creates other issues (dampness, wood rot, insect infestations) if it gets closer than 4" to wooden structural components.
We get some nasty weather in the Northeast Dallas suburbs; and this can challenge roofing systems with high winds and driven rain. Our Plano, Frisco and McKinney home inspectors always make careful visual examinations of building roof exteriors to look for damaged/missing tiles or flashing. We also look at the roof's interior where accessible – if light can come in, so can rainwater or insects. In many cases the homeowner is not even aware of this damage; but a missing tile or flashing course can admit water that causes extensive damage.
Let us inspect your McKinney TX home to check for these common problems. We can spare you a lot of headaches and expenses on your new house or condo. Call AIS (972) 342-9183 today!
Advanced Inspection Service (AIS) – Northeast Dallas Area
AIS has been inspecting homes in McKinney, Frisco and Plano for more than 30 years. We understand the housing market in these communities – as well as the building codes, residential construction practices and common problems that arise in these areas. Most of our home inspections are done for prospective homebuyers; but we also do these for sellers who want a rigorous evaluation before they put their house on the market. This is a smart move because it's always better to find and fix a problem before the buyer's inspector finds it.
All AIS home inspectors are certified by the American Society of Home Inspectors (ASHI) and the Texas Real Estate Commission (TREC). We have invested in sophisticated equipment (e.g., infrared cameras to detect moisture and heat loss), continuing education and procedures to enable us to quickly find potential issues in your house. Our ability to quickly schedule and complete the inspection will give you a competitive advantage in the highly competitive McKinney real estate market.
Advanced Inspection Service (AIS) – McKinney – Plano – Frisco – Dallas TX