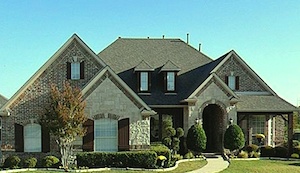 When it comes to professional home inspections McKinney TX is one of the busiest communities in the North Dallas area. Advanced Inspection Service (AIS) inspects residential properties in McKinney and the nearby communities of Frisco, Allen and Plano. Although most of our work involves single-family detached houses, we also inspect condos, duplexes, apartments and commercial buildings. All AIS personnel are certified by the Texas Real Estate Commission (TREC), and we have more than 30 years of experience in the home inspection business.
If you're buying or selling a home in the McKinney area, call AIS today – Mike Martin (972) 342-9183
McKinney TX Home Inspections Growth
In 2014 Money Magazine named McKinney the #1 Best Place to Live in America. This was no surprise to us. The appeal of good schools, employment opportunities and housing values has led to a huge boom in the northern Texas housing market in the past few years. And we've seen a similar demand for home inspections – McKinney, Frisco and Prosper have really taken off, both in new construction and resales.
The area around Plano has a great variety of housing. From Victorian estates and Texas-style "McMansions" to modern condos and townhomes, we have a mix of residential living options to suit just about anyone. AIS has inspected McKinney homes that were built in the 1950s, and some that were still under construction. So we're familiar with the past and present architectural styles, building codes and construction techniques.
North Texas is blessed with a moderate climate; although we do get heavy doses of wind and rain occasionally, and a couple weeks in the Summer with temps over 100. So our McKinney home inspections pay a lot of attention to three things:
Grading and Drainage

Roof structure, covering and flashing

HVAC system performance
Our house examinations include a comprehensive checklist encompassing all structural and major system components; but these are the areas that typically cause the most problems.
Inspecting Homes in McKinney, Frisco and Prosper, TX
The flat terrain in the Plano-McKinney-Frisco area makes it very economical to build houses; but it can also lead to drainage issues. The soil does not hold much moisture, so builders must be careful to slope the soil away from houses to discourage water penetration. Roof gutters and downspouts need to carry water away from the home's foundation.
We also take a close look at the roof structure and covering. North Texas is notorious for tornado-strength winds, and all AIS home inspections – McKinney, Frisco and Allen especially – include visual inspections of the roof's structure, surface covering and flashing. We're sorry to report that many houses in Texas have missing or improperly installed flashing. This can lead to water penetration and expensive repairs; so we are diligent in inspecting homes for potential flashing issues.
HVAC systems in the Dallas area get a real workout in the Summer, and are also needed to combat freezing temperatures in the Winter. We thoroughly inspect all aspects of these systems – furnace, thermostat, ducting, refrigerant lines, condenser and heat exchanger units.
New Home Inspections — McKinney, Allen and Plano
A lot of people don't think to have their new home inspected. They assume their new house is designed properly and well-built; and that the local building inspector's approvals mean that everything is in working order. Nothing could be further from the truth.

Even the best home design can run into problems when the house is built on your lot. The builder may need to make alterations based on the orientation, terrain, easements, setbacks and other factors that affect the quality of the home. Builders and their subcontractors are under tremendous pressure to meet schedule and cost goals. Our new home inspections in the McKinney area frequently find "as-built" deviations from the architectural drawings that were made to reduce cost or save time. To ensure you're getting the house you paid for, get your new home inspected – during the construction process and after it is completed.
The good news is, new homes are generally well built. Compared with 20 years ago, there are much more effective foundation designs, better quality windows and doors, and more energy-efficient building materials and systems. The better builders and remodeling companies do a great job of managing their subs and construction schedules to produce a high quality product and good value. But it's a good idea to have the home inspected – to be sure.
Whether you're buying or selling, call AIS to schedule your McKinney home inspection.
Mike Martin (972) 342-9183