Advanced Inspection Service (AIS) House Inspections – McKinney TX Real Estate Update
2017 has been a great year for North Texas home sales, and we are doing a lot more Frisco, Richardson, Plano and McKinney house inspections. Among these, we have seen the largest increases in Collin County. So I thought I'd pass on this information on the local real estate market you can share with homebuyers and sellers.
–Mike Martin, ASHI- and TREC-certified Real Estate Inspector.
AIS – McKinney House Inspections – Prompt and Thorough
Statistics on Current McKinney Texas Real Estate Market – September 2017
Home prices are up 5.8% in past year, expected to rise 3.3% in next 12 months.

Median home value $291,100 ($138/sq.ft.), up 5.8% in past year

Median McKinney house size is 2856 square feet

Median time on the real estate market is 50 days
Here is a summary of current McKinney house, townhouse and condo listings (September 11, 2017 from HouseHunt):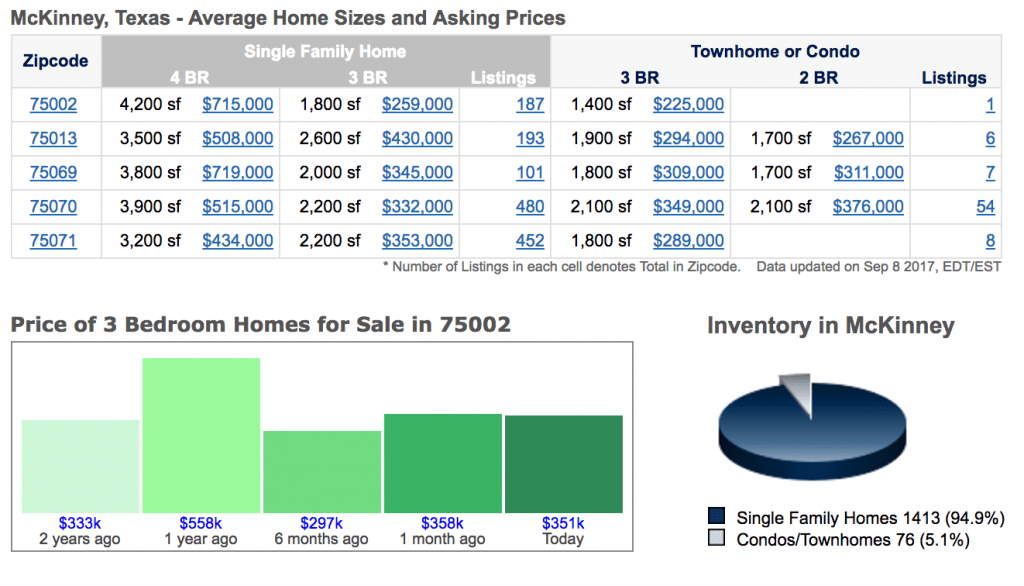 McKinney is an upscale community with excellent schools and low crime. The median household income is $86,310; and 55% of adults are college educated.
Key Things We Look For Inspecting McKinney Houses
Most of the McKinney properties we examine are modern homes — built within the past ten years. So very few of these have the kind of issues we see with older North Texas residences — unstable pier and beam foundations, cracked slabs, outdated HVAC and electrical systems, substandard insulation or vapor barriers. Many of these dwellings are part of planned communities that have done an exemplary job providing water and sewer services, good drainage, safe driveways and sidewalks. Many of these have HOAs which impose additional rules for maintaining the houses and landscapes.
The major source of deficiencies and potential problems in our McKinney house inspections are:
Drainage issues: Depressions in the yard with no place for the water to go. These are more significant if near the home where they can lead to water intrusion. Drainage issues include obstructions in gutters and downspouts that can impede flow.
Roof damage: Missing or cracked shingles or tiles that can let water into attics or living spaces. McKinney houses are often exposed to high winds, and (especially with multi-storey buildings) the damage is not always visible from the ground. Our inspections also identify improper sealing at roof penetrations (vents and chimneys), as well as damaged or improperly installed roof flashing.
Overloaded electrical systems: Distribution boxes, circuit breakers and outlets. Our use of electrical systems and appliances continues to increase; but some homeowners have not expanded he capacity of their electrical supply boxes to meet the higher load. And we occasionally run into some 'creative' amateur DIY electrical modifications that are truly frightening! We are always glad we did those house inspections before these problems had a chance to start a fire or electrocute someone.
If you have a homebuyer or seller who needs a prompt and thorough house inspection in McKnney, Frisco, Richardson or Plano, call us today (972) 342-9183
Advanced Inspection Service – your go-to house inspectors for McKinney, Frisco and Plano