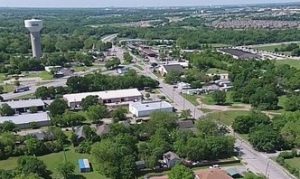 Another week – another McKinney real estate inspection! We hear about housing market downturns in other parts of the USA; but there's no sign of this in Northeast Dallas. The residential property market is very active, and so are our real estate inspectors – McKinney just keeps attracting more people. There is a lot of new construction, and resales are also doing very well. Our McKinney home inspections are up 30% from last year.
Inspecting McKinney Real Estate – Important Factors
The Frisco, Plano and McKinney real estate markets have been booming for the past 5 years. This expansion encompasses both commercial and residential properties, and all varieties of dwellings – homes, condos and townhouses. New construction projects include multi-million dollar retail, medical and service businesses – and master planned housing communities with integral elementary and middle schools.
If you're buying or selling property in the North Dallas area,
Call AIS (972) 342-9183
Residential Real Estate Inspections – McKinney and Frisco
Most of our property inspection work takes place in the Highland Park to McKinney corridor — encompassing the communities of University Park, Richardson, Addison, Plano, Allen and Frisco. This year we're doing more McKinney real estate inspections; but previously we had more activity closer to downtown in the Highland Park/University Park areas. The majority of residential development is taking place in the northeastern suburbs; and AIS is performing an increasing number of inspections on new houses and condos (both pre- and post-construction).
Our real estate inspectors encounter homes built by the giant household name builders (Horton, First Texas, Highland, Pulte) as well as smaller contractors. We observe a wide variety of design and build quality; and it's hard to say whether the homeowner gets a better house from the big companies or smaller ones. The largest construction firms have advantages of scale – volume discounts on systems and materials; standardized designs, building procedures and quality control processes; and a consistent and more manageable labor force. But the best of the smaller builders are receptive to more customization, and not influenced by corporate pressure to meet overly ambitious cost and schedule targets.
So we have three pieces of advice for people building or buying a new home:
Get references from a few of your builder's recent customers (ideally in the same development or area).

Ask other non-reference customers about their homes and construction experience.

Have your house inspected – during construction – by a licensed real estate inspector, and have these inspections written into the construction contract and schedule.
Need a Frisco or McKinney real estate inspector?
Call AIS (972) 342-9183
Inspecting Commercial Real Estate in McKinney TX
As these communities spring up and expand, residents need more commercial outlets and services nearby. So undeveloped McKinney real estate is getting harder to find, and comercially-zoned land is being developed for shopping malls, strip centers, sports and entertainment complexes. The McKinney Planning and Zoning Commission has done a good job balancing the interests of the residents, developers, merchants, educators and other stakeholders. As a result, the community is one of the most desirable in North Texas – and was named the #1 Best Place to Live in the USA by Money Magazine in 2014.
Our commercial real estate inspections in McKinney include retail shops, restaurants, office buildings and other businesses. As with houses in this area, many of these are relatively new construction; so they are designed and outfitted to meet current building codes. The newer facilities generally have less wear and tear, and most of the commercial establishments have been conscientious in maintaining the edifice's structure, finish and systems. We occasionally find some issues with HVAC systems, overloaded electrical circuits or deficient fire alarms, carbon monoxide or smoke detectors; but for the most part, our McKinney real estate inspection work goes very smoothly.
More McKinney Real Estate Inspections in 2018
The housing boom and commercial building trend show no sign of abating. Our McKinney real estate inspectors are having their best year ever, and we look forward to an even better 2018. If you're in need of a commercial or residential real estate inspection in McKinney, Frisco or Richardson, please give us a call.
AIS Real Estate Inspections – McKinney TX (972) 342-9183