Advanced Inspection Service (AIS) inspects homes, condos and other residential housing throughout North and Central Texas. We have conducted hundreds of home inspections in Frisco, Allen and Plano TX. Our TREC-licensed real estate inspectors have decades of experience with residential and commercial properties. This year we are doing an increasing amount of McKinney home inspection work, as well as properties in Richardson and Fairview. AIS also has many happy clients in the Austin area including Round Rock, Georgetown, Lakeway and Cedar Park.
Choosing a Texas Real Estate Inspector
Texas home buyers looking for a real estate inspector should consider several factors:
Is the inspector Texas Real Estate Commission (TREC) certified and a member of the Texas Association of Real Estate Inspectors (TAREI)?
Does he or she have experience inspecting the same type and age of dwelling you are considering, and in the same geographical area?
Is the real estate inspector recommended by your realtor and/or lender on the basis of previous Texas property inspections?
Once you have received a 'yes' answer to these questions, contact the inspector to discuss the timing and cost of inspecting the house. Mention your intended use and any planned modifications to the dwelling. Talk about any specific concerns you have, or any special examinations (i.e., swimming pool, sprinkler system, pier-and-beam foundation or termite inspection) you would like to be performed. Home buyers who are new to Texas should ask about our local construction practices (good and not so good), building code requirements and structural problems common to homes in this area.
Mike Martin — ASHI Certified Real Estate Inspector
Mike is an ASHI- and TREC-certified Professional Real Estate Inspector, and is also a Certified Pool Inspector. He is currently focused on inspecting homes in North Dallas including Frisco, McKinney and Plano TX; and also conducts inspections in the Austin area.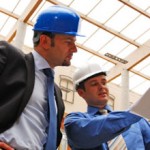 AIS' Texas real estate inspectors have inspected hundreds of houses and commercial buildings in Dallas and the neighboring suburbs of Addison, Garland and Richardson. The rapid growth of these communities has led to a boom in home building and sales of existing homes. The high level of transactions can fill a real estate inspector's calendar quickly, especially in the Spring and early Fall. So it's important to get your inspection scheduled as soon as you make an offer on the property.
Ed Martin — ASHI Certified Real Estate Inspector
Ed Martin is a highly-experienced Texas Real Estate inspector. In addition to certification by TREC, Ed is one of very few inspectors in the Lone Star State to be designated a Certified Professional Inspector by the TAREI. Since he founded AIS in 1983, Ed has personally inspected hundreds of commercial and residential properties. He is available for Texas real estate inspections in the Austin and Dallas areas.
Every AIS real estate inspector understands how competitive our Texas housing markets are, and the importance of being available to conduct inspections on short notice. Frequently the ability to conduct a thorough home inspection in a week or less is critical to the success of the buyer's offer. We have automated our process and reporting to reduce the end-to-end time it takes to produce and deliver an Inspection Report to the home buyer. This efficiency gives AIS clients a competitive advantage in an environment where sellers may be receiving multiple contemporaneous offers.
Call today to talk with expert Texas real estate inspector Ed Martin or Mike Martin. We look forward to working with you to conduct a prompt and thorough examination of the property — ensuring you have confidence in the quality and value of your home.
Dallas (972) 342-9183 or (972) 730-6700
Texas Real Estate Commission Consumer Protection Notice (02/01/2016)