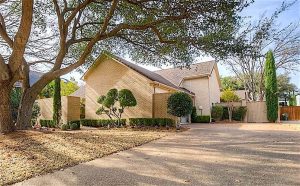 We're doing a lot of Plano home inspections these days – no surprise given the booming economy and attractive characteristics of that community. Here's an example of a 31-year old custom home we inspected this month. Despite its age, the house has generally been well maintained. However, some aspects of the electrical systems, plumbing and drainage have not been upgraded. And we found a few items that were not up to code and/or exhibited potential problems.
Inspecting Plano Homes – Common Issues
Like most areas in Northeast Dallas, Plano has rather flat terrain. This can create some challenges for developers and homebuilders. Many of our home inspections in Plano reveal drainage issues. These begin with improperly installed roofing and flashing, and go on to include problems with roof gutters and downspouts. Often these issues are compounded by grading problems, including ground sloping toward the house.
Modern master planned communities generally have a comprehensive plan and major infrastructure investments for managing rain water runoff. These usually take the form of storm drains and underground piping to remove excessive ground water from entire neighborhoods. Homeowners in these communities have a much easier time with drainage issues because there is less water to deal with. Not surprisingly, our Plano area home inspectors find fewer drainage issues in these areas.
Commercial and residential real estate in the Plano area is also subject to high winds, driven rain and hailstorms. So our home inspection procedures include careful examination of the roof surface as well as chimney, plumbing and ventilation penetrations. We find quite a bit of makeshift or poorly-installed flashing, especially in older houses. The most frequent culprit is improperly installed step flashing, usually along the joint between the roof deck and perpendicular house siding.
If you're looking for a TREC-certified Plano home inspector, call AIS (972) 342-9183
Recent Plano Home Inspection – February 2017
This house was in good condition for a 31-year old dwelling. The exterior had attractive masonry, with only a few cosmetic defects. The roof was also in good condition, with no visible damage from hail or the overhanging trees. However, the gutters were full of leaves, and our inspector recommended these be cleaned out to avoid water damming that could leak into the home. The lot has a good slope away from the building – although the soil level near the foundation was a little too close to the wood sheathing (presumably due to the addition of landscaping soil).
The pool had been drained and needed cleaning; and our inspection found a few cracks in the concrete walkway surrounding the pool. But apart from a small water leak in one of the plumbing lines, the pool heater and plumbing appeared to be in good working order. The HVAC system was also on good working order. The only deficiency we found during this home inspection was in the condenser wiring which should be protected by conduit according to the building code.
The biggest concern raised by our home inspector was the state of the electrical wiring. The electrical code has changed significantly since this house was built; and in a few cases the wiring appears to be original – or more recently installed by the owner or an unlicensed electrician. The home has an old Federal Pacific Electric panel box, which is notorious for problems and deficiencies. And none of the living area electrical outlets or switches is protected by an Arc-Fault Circuit Interruption device (required by the National Electric Code). This was the area of most concern in this Plano inspection; and it will require a significant expenditure to remedy. Our client utilized the detailed descriptions and photos in our report to negotiate a price concession from the seller.
Scheduling Plano Home Inspections
For the past 5 years the Plano housing market has been one of the hottest in the USA. People are moving to this area in droves; and this has precipitated a lot of new home construction and resales. The real estate market is highly active, especially in the Spring.
This creates a lot of competition for homebuyers, so it's essential to make a strong and prompt offer on a house you really like. In addition to getting financing (or cash offer) lined up in advance, it is also important to schedule and execute a thorough home inspection early in the process. This gives the buyers the information they need to evaluate the value of the house (and prospective repairs) so they can make any necessary adjustments to their offer. Getting the inspection done promptly puts you in a better bargaining position with the seller, and in many cases avoids competition from multiple prospective buyers.
If you've found a home you like in the greater Plano area, call now to schedule your inspection.
Advanced Inspection Service (AIS) – Plano TX (972) 342-9183